Garage Doors
Rhome manufacture the highest specification roller garage doors available in the market. There are numerous benefits to installing a electric roller garage door to your property in the Birmingham, West Midlands area. We offer 3 alternative product options : Classic, Premier & Openice.
---
Roller Garage Door Features
Made to measure insulated roller garage doors give space saving vertical operation which releases much needed storage space in the garage roof area and enables you to park as close as possible to the door when closed. Additional width is also achieved as there is no need for an intrusive frame.
With exceptional heat saving and acoustic properties the twin wall insulated aluminium interlocking sections offer great benefits in security & strength with additional home insulation. Garage doors are fully automated, opening at a push of a button from the warmth and safety of your vehicle.
Our garage doors can be installed internally or externally giving exceptional flexibility of design.
Insulated garage door sections are manufactured using state of the art machinery unique in the UK. Rhome garage doors offer a combination of twin wall security and strength with reduced heat loss from your home. Rhome profile is environmentally efficient due to it's unique through section insulation value of 1.5 W/m2K. The Aluminium used is pre-coloured ensuring colour consistency with an additional anti scratch film applied, giving a fully protected harder wearing finish.
---
Vision / Ventilation
Vision and ventilation profiles can be incorporated to ensure light penetration & airflow as required in domestic and commercial car park applications.
---
Colour Choice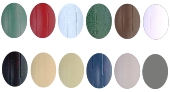 The doors are available in a range of attractive painted colours. The external face of the profiles can also be foiled additional wood effect colours as required - Golden oak, Mahogany & Rosewood.
---
CE Compliance
Every garage door is fully CE compliant and carries a unique serial number for continued product support during the doors working life.
Gallery
Click on the image to see a larger version